Ambush (Game)

Information

Type

Mini-game

Location

Funland, Near Tumble Tower

Inhabitants

Players

Appearance

First Appearance
Other Appearances

Episodes 202-203
The Ding Dong Game
(called
Ambush
in Episodes 201-203) is a kind of a board game in
Stampy's Funland
. 
It was built in Episode 201 - "
Big Board Game
"
Appearance
The whole game is near the
Tumble Tower
. It is made mostly of orange, lime and some black in the middle. the outside is by 23 blocks by 13 blocks or 23x13 width and the height of it is 3. inside of it has barriers and some minecarts in the pattern checkered hole.
Game
It's like a board game but in minecraft. Instead making the piece, you're the Piece. The goal of it is to go to the minecarts and move each team and punch them diagonally. You can punch them in diagonally not horizontally. The last remaining team wins the game.
Trivia
It was built after Stampy's 200th Episode of Stampy's Lovely World.
It is the second game to finish it and play it in one video. The first one being Tumble Tower.
The first players to play the game is Stampy, L for Leeeee x , Ank55 and LONG bow X99.
The Game is based off Battleship and Chess.
Stampy renames Ambush to "The Ding Dong Game" in Episode 204. He renamed it beacuse of the "Dings and Dongs", which it played under the game.
Feature Video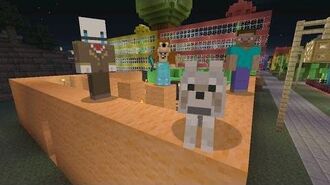 Ad blocker interference detected!
Wikia is a free-to-use site that makes money from advertising. We have a modified experience for viewers using ad blockers

Wikia is not accessible if you've made further modifications. Remove the custom ad blocker rule(s) and the page will load as expected.