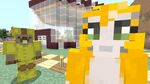 "Let's continue building this article!"
Bernie is a dog in the Frosty Mountain Hunger Games. He is partners with Stampy and Emm 2. He plays with fire a lot. He has a red collar.
The reason Stampy named him Bernie was because he kept on getting in the fire.
He never appears in Stampy's lovely world.
He has only one appearance
Appearance
Edit
He is a normal dog with a red collar.
Ad blocker interference detected!
Wikia is a free-to-use site that makes money from advertising. We have a modified experience for viewers using ad blockers

Wikia is not accessible if you've made further modifications. Remove the custom ad blocker rule(s) and the page will load as expected.