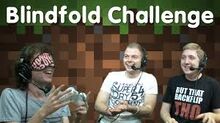 Blindfold Challenge was performed by Stampy as the blindfolded and Squid and Martin as Stampy's host.
This was created March 16, 2014. The goal is to help the blindfolded to find and mine just 1 Diamond.
Procedures
Edit
You have to need 2 friends. One of your friends or you should be blindfolded. The hosts should be 2. As the blindfolded, you should be blindfolded while playing Minecraft. As the host, you should commentate and help the blindfolded to do the goal. If the blindfolded died once in the game, the challenge is over and that means you lost. (Similar to Hardcore mode.)
Minecraft Xbox- Blindfolded Challenge Part 1: Part 1
Minecraft Xbox- Blindfolded Challenge Part 2: Part 2
Ad blocker interference detected!
Wikia is a free-to-use site that makes money from advertising. We have a modified experience for viewers using ad blockers

Wikia is not accessible if you've made further modifications. Remove the custom ad blocker rule(s) and the page will load as expected.