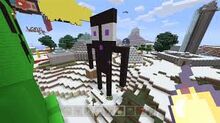 The Community World is a separate world. It is the home of Stampy's friends. Stampy does not often build anything in this world, but in Episode 35, he helped out in the community.
This world was meant to be a multiplayer community world where Stampy's friends would come in and build (or destroy) stuff. It also had the idea of role-playing, where he implemented "jobs" to look over the community world. Stampy realized that handling a community world would be hard unless he has a group of people who can be trusted. He also said that it was an Invite-only world (however, there was a glitch in that world where non-invited people could still join) so he could have limited players only. He then stopped the community world and was used as his first sketchbook world until he switched to the current one after superflat worlds were added to Xbox.
Stampy first toured the world in 28th January 2013, and again on 23th July 2016 as part of his Behind The Scenes on his second channel.
Appearance
Edit
The world is separate, this is not included in Stampy's Lovely World. There are many buildings in this world, but some are just putting up holes or vandalizing the world. There are few buildings that are destroyed or going to be destroyed.
Notable Builds
Edit
Town Hall - This is Stampy's house in the Community World.
Community Storage Room - This was where materials were stored and could be used by anyone.
Community Mine - This was used for gathering underground resources. The design was supposed to be mineshafts built by the community.
Art Gallery - This building was used to showcase exhibits built by different people in the community. This was supposed to be a series on the channel; however, it didn't evolve, but instead he used the idea as an inspiration when he built an Art Gallery in his Lovely World.
Quick-build Area - This was used by Stampy and Squid to introduce a skin pack which was newly released by that time.
Past your Bedtime studio - This was used by Stampy and Squid for their Past your Bedtime videos.
Cake Sky Island - This was used in the 62nd episode in Stampy's Lovely World.
1,000, 2,000 and 3,000 subscriber signs
Ad blocker interference detected!
Wikia is a free-to-use site that makes money from advertising. We have a modified experience for viewers using ad blockers

Wikia is not accessible if you've made further modifications. Remove the custom ad blocker rule(s) and the page will load as expected.