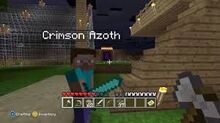 Crimcity is a world created by Crimson Azoth, one of Stampy's friends.
Appearance
Edit
It is a large world on Minecraft. It has many buildings and places. Stampy toured the world several times.
Appearances
Edit
Crimcity was the first world Stampy toured someone's world. It appeared on Episode 3, Visiting Crimcity, one of the earliest episodes on Stampy's Minecraft Let's Play. Stampy visited the world five times. Appearances of it can be seen above.
Crimcity was destroyed after Crimson Azoth left Minecraft.
Playlist
Edit
Ad blocker interference detected!
Wikia is a free-to-use site that makes money from advertising. We have a modified experience for viewers using ad blockers

Wikia is not accessible if you've made further modifications. Remove the custom ad blocker rule(s) and the page will load as expected.