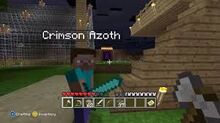 Crimcity is a world created by Crimson Azoth, one of Stampy's friends.
Appearance
Edit
It is a large world on Minecraft. It has many buildings and places. Stampy toured the world several times.
Appearances
Edit
Crimcity was the first world Stampy toured someone's world. It appeared on Episode 3, Visiting Crimcity, one of the earliest episodes on Stampy's Minecraft Let's Play. Stampy visited the world five times. Appearances of it can be seen above.
All of the Crimcity videos are currently unavailable on Stampy's channel due to them having inappropriate commentaries.
Playlist
Edit