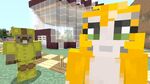 "Let's continue building this article!"
Dodga

Statistics

First Appeared:
Witch Room
Last Episode Seen:
Status:
Alive
Type of Mob:
Zombie
Dodga is a zombie who was seen in Goglies Manor with another zombie who Stampy named Derek the Zombie.
Dodga is presumed to be the zombie who was overpowered by Guilty Bark but survived and escaped after his death and waited for Stampy to build the Manor so he can enjoy himself with Derek but never wanting to be seen by Stampy.