Barnaby says, "This plot needs more CONTENT, so add every detail in the episode now!"

Please expand the article as well as you can!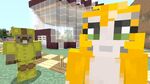 "Let's continue building this article!"
Dolphin Dives is the 135th episode.
In Dolphin Dives, this is where Stampy, JakeOnDaXbox, McCliimax, Venomous Spyro, and Squid plays the mini-game Water Rush. They all get to dressed like dolphins when the game was starting.
Sad Part: Aqua Dies
Minecraft Xbox- Dolphin Dives [135]
Ad blocker interference detected!
Wikia is a free-to-use site that makes money from advertising. We have a modified experience for viewers using ad blockers

Wikia is not accessible if you've made further modifications. Remove the custom ad blocker rule(s) and the page will load as expected.