Emm 2
Stats:
Appearances
First Appearance:
Pot of Gold
Last Appearance:
Frosty Mountain Hunger Games
Username:
Unknown
Nicknames:
Emm
Gallery: none
Emm 2 is a former Minecraft helper in Stampy's Lovely World. She appears in only a couple videos like Frosty Mountain Hunger Games and a few episodes in Season 1. Her skin is the same as ZShoot2KillZ, which is a cow. She also teams up with Stampy in the Frosty Mountain Hunger Games.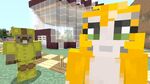 "Let's continue building this article!"
Ad blocker interference detected!
Wikia is a free-to-use site that makes money from advertising. We have a modified experience for viewers using ad blockers

Wikia is not accessible if you've made further modifications. Remove the custom ad blocker rule(s) and the page will load as expected.