Name
The Colers
Use
Civil Flag
Proportion
2:3
Adopted
May 15, 2013
Design
Based off the sail on the SS Stampy originaly based off the colour of Stampy

The Flag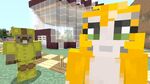 "Let's continue building this article!"
This article is a stub. If you know more about Flag of Stampy's Lovely World, you can contribute by
editing and expanding it
!
The Flag of
Stampy's Lovely World
is the official flag of Stampy's Lovely World. It was built by
Stampy
in the episode,
Trip To The Moon
, at the moon. The white represents hope/freedom and the orange represents fun (unofficial colour/color meanings) This flag was also planted in front of the School.
Ad blocker interference detected!
Wikia is a free-to-use site that makes money from advertising. We have a modified experience for viewers using ad blockers

Wikia is not accessible if you've made further modifications. Remove the custom ad blocker rule(s) and the page will load as expected.