at about 09:57, Stampy said 'I mucked it up. If you f*** it up, you have to go back to the beginning...' Don't worry - he very rarely swears now and this was just a one off
Flap Frenzy is the first ever mini game to be finished and to be played in just one episode.
Functions
Edit
You need to flap your way up to win by flapping up with trapdoors. You can also flip the trapdoors to slow down your enemies. But you are not allowed to hit someone.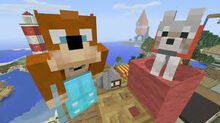 Minecraft Xbox- Flap Frenzy [175]
https://www.youtube.com/watch?v=66ZhAT-4TSc
Ad blocker interference detected!
Wikia is a free-to-use site that makes money from advertising. We have a modified experience for viewers using ad blockers

Wikia is not accessible if you've made further modifications. Remove the custom ad blocker rule(s) and the page will load as expected.