Barnaby says, "This plot needs more CONTENT, so add every detail in the episode now!"

Please expand the article as well as you can!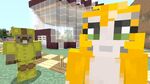 "Let's continue building this article!"
Fluffy

Statistics:

First appearance:
Uninvited Visitor
Last appearance:
N/A
Status:
Alive
Type of mob:
Dog
Nickname:
Color of collar:
Yellow
Fluffy is one of Stampy's Dogs. She has a yellow collar.
She used to live in the SS Stumpy, but in Episode 111, she was removed and was placed in the Pick-a-Pet Shop, as she was the slowest dog on the Dog Assault Course  Leader board. She is on display in the Pick-a-Pet Pet Shop. Despite that she is in the Pick-A-Pet-Shop, Stampy still chooses her to accompany him in the videos. She would be ideal for elderly people as she is the slowest of the dogs, so if she escapes she won't get very far when her owner tracks her down.
Relatives:
Aqua (mother) ✝️
Sherbet (brother)
Spring (father) ✝️
Fluffy almost died in Episode 210, when Stampy pushed her off the big tree in Flower Power. 
Fluffy almost died while building the Pick-A-Pet Pet Shop, almost being blown to death by a creeper (killing Stampy instead). 
Fluffy was the second dog who does not live in the Dog House.
Fluffy's collar was once accidentally changed to white when Stampy told her to stand up while he was holding bonemeal. This made him believe that she was Gregory Jr.
She and Gregory Jr. are the only dogs not to be in the dog house. Duncan may also count, as in one episode he slept round Mittens.
In the episode, Meat and Greet, This time it has been re-taken at once.
Ad blocker interference detected!
Wikia is a free-to-use site that makes money from advertising. We have a modified experience for viewers using ad blockers

Wikia is not accessible if you've made further modifications. Remove the custom ad blocker rule(s) and the page will load as expected.