Fred's Room is the 198th episode in Stampy's Lovely World. In this video, Stampy continues to build Fred, his friendly Enderman's room.
Stampy did the same thing before heading over into the Love Garden and proceeds to above his crafting area. Fred's Room is made out of purple and black wool. Redstone Torches can also be seen with glowstone. Stampy also builds 4 quartz blocks and a sign 'My favorite blocks.' Fred later adds a dirt block to his favorites after the video. Stampy also goes to the mushroom house area and uses bone meal to get some roses for Fred's room. After the video, Fred is in his room with a grass block which Stampy says he walks his blocks.
Minecraft Xbox- Fred's Room [198]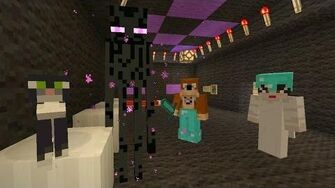 This room origanally was a crafting room.