Freric

Statistics:

First appearance:
Super Happy Fun Time- Eric in the Bunny Pit-1
Last appearance:
SHFT- Diamond Challenge-20
Status:
Dead
Type of mob:
Chicken

Duck

Nickname:
 ?
Color of collar:
Not a dog
Freric
is
Eric
's mother. She was seen in SHFT in Episode 20, Diamond Challenge.
Freric was killed with Eric in lava when Sqaishey accidentally poured lava and they were killed.
Freric remains relatively unknown and is likely to be seen on Episode 1, Eric in the Bunny Pit.
She is a chicken, even though it doesn't say so in the infobox.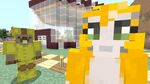 "Let's continue building this article!"
Ad blocker interference detected!
Wikia is a free-to-use site that makes money from advertising. We have a modified experience for viewers using ad blockers

Wikia is not accessible if you've made further modifications. Remove the custom ad blocker rule(s) and the page will load as expected.