ItsEarth
Stats:
Appearances
First Appearance:
Frosty Mountain Hunger Games
Last Appearance:
Unknown
Username:
ItsEarth
Nicknames:
Unknown
Gallery: none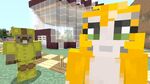 "Let's continue building this article!"
ItsEarth or more commonly called by Stampy, LewisBlogsGaming, is a Minecraft player, and is good friends with Stampy. He appears in many Hunger Games' including Frosty Mountain Hunger Games. His skin is a very blonde prisoner. He killed Stampy's dog, Bernie in this video
Association with Stampy
Edit
ItsEarth appeared in some videos of Stampy's Lovely World, his first is in the episode Dunking Booth, where he builds a house for himself. He even became Stampy's guest star in episode 4 of Stampy's Lovely Podcast.