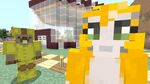 "Let's continue building this article!"
JakeOnAXbox has appeared in many Hunger Games with Stampy.
He has appeared in Stampy's Lovely World on the episode Slippery Shoplifter and buys some clothes from Stampy's shop.
JakeOnDaXbox has appeared in many Hunger Games. He is a moose with gold boots. He also has s reindeer skin pack on xbox.
He stars in a lots of different hunger games with stampy but usually goes lone wolf. He also has starred in a few of stampys lovely world but has never been a main part of it. He has done a few quick builds but is a very quiet Youtuber.
He never has excelled in Youtube and to this day is still playing Minecraft. He also has a twitter account so definitely check it out.He also didn't start in an races to the moon so definitely he is very quiet. However, he starred in a few unrecorded quick build challenges and won some. He is not that good with a bow and isn't famous for anything.
                           Trivia

His real name is really Jack. He has been doing Minecraft from 2013 His YouTube channel is called Jack on da Xbox None of his family does YouTube. He has a girlfriend. He has never released his face on YouTube.
Ad blocker interference detected!
Wikia is a free-to-use site that makes money from advertising. We have a modified experience for viewers using ad blockers

Wikia is not accessible if you've made further modifications. Remove the custom ad blocker rule(s) and the page will load as expected.