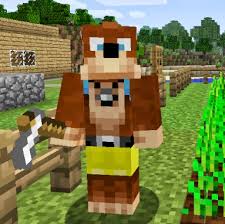 L for Leeeee x is a recurring helper/good friend of Stampy's who, like all other characters (with an exception of Stampy), never talks on videos. His normal appearance is that of Banjo from Banjo Kazooie.
He is also a youtuber. 
50.163.24.151 03:23, March 10, 2014 (UTC)iadiajsidajosidjaoisjdoiajsoidjaisjdoijasoidjoaisjdo 

L for leeeee makes frequent appearances in Stampy's videos. He usually brings lovely cakes for Stampy in the beginning of Stampy's Lovely World videos. L for Leeeee brings cakes for Stampy because Stampy loves cakes and it makes up for breakfast.  L for Leeeee is very good at what he does, although he doesn't speak and nobody really knows much about him he still means a lot to everyone in Minecraft, iBallisticSquid, and Stampylongnose... but we do know he's Scottish!
Most definetely he is super special for his cake tradition! Go L for Leeee x! You are 100% full of niceness and cakes and mostly so good so goood things. Well done L For leeeeee x.
You earned your spot in the world and your spot as the Cake King! Peek A Booo for L for Leeee! Well done Lee! Charis is L for leeeee's x biggest fan! Go check her out on YouTube!: Charece ward