L for Lee x
Talk

0
786pages on
this wiki
L for Leeeee x




(above) Lee in his actual Skin

(below) Lee in his Diamond Pants

Stats:
Appearances
First Appearance:
The Friendly Creeper (53)
Last Appearance:
Current
Username:
L for Leeeee x
Nicknames:
Leematoad, Lee Bear
Gallery: L for Leeeee x Gallery
"
The one person who has been with me for the majority of those episodes
"

–Stampy
L for Leeeeee x (otherwise known by other names as Lee Bear, or simply, Lee) is a helper and a good friend of Stampy. He is currently a member of the Magic Animal Club, representing a bear. Starting from Episode 53, Lee almost always joins Stampy in Stampy's Lovely World, and thus, Stampy's videos and is rarely absent.
He is also a Youtuber and has his own channel. He helps Stampy in defeating HitTheTarget and building other games or buildings. At the beginning of every video, he gives Stampy a cake. He plays with Stampy in his games for fun.
Due to being a helper in Stampy's Lovely World, Lee has the duty of helping Stampy out when building and contributing to the Funland. He always protects Stampy and his dogs when danger is near. Stampy has often called Lee his "bodyguard", due to Lee's tendency to hunt enemy mobs that are near Stampy. They sometimes join together in Hunger Games, where he is a renown player, with roughly the same skills as Stampy, but unlike Stampy, does not last as long. He also loves pork chops, due to dropping pork chops at death. He uses his weapon which his enchanted diamond sword and his bow. He has also tamed two dogs, Sparky (deceased) and Larry Love. Stampy once joked that ''[Me] and Lee have to do everything around here".
Appearance
Edit
Lee is a brown bear with blue eyes. He wears a blue backpack, a black belt, a necklace and golden shorts. He doesn't wear shoes. Lee also is known to wear enchanted diamond leggings and enchanted diamond boots. His sword is named "Lee's Super Spectacular Sword" because of powerful enchantments making it easily to kill Googlies around. However, due to numerous adventures, Lee was known to wear additional armor (and indirectly, his clones wore leather armor).
Appearances
Edit
ThisThis section is outdated! Post new information now!
Channel name: L for Leeeee x
He has 100,113 subscribers, despite the fact he has only posted one video.
His channel has some Hunger Games videos in it.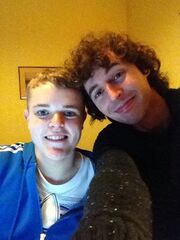 | Year | Ceremony | Award | Result |
| --- | --- | --- | --- |
| 2013 | Stampy Fan Awards | Best Helpers | Won |
| | | | |
He is 17 years old.
He is from Scotland.
In Lee's twitter's cover photo, you can see a pink/violet Stampy.
Lee is not mute, you can hear him talk in this video. Despite not talking in any of Stampy's videos, Lee can hear perfectly, and in order to communicate with Stampy, uses signs to convey his meaning. Stampy often tells Lee what to do, as with all the Minecraft helpers, who never talk.
Stampy and Lee met for the first time in Scotland.