Lava Room

Information

Type

Farm

Location
Built by

Stampy Cat

Appearance

First Appearance
Stampy
's Lava Room is an Underground Lava Storeroom under his Basement.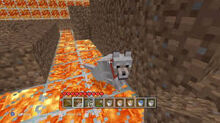 Amenities
Edit
It features 2 trofts of Lava and is covered by lava through glass everywhere. One of Stampy's Dogs (Snowy) ironically was burnt to death in the Lava Room. Snowy died in Accidents in the Lava Room, and his grave was placed just beside the room's entrance.
Ad blocker interference detected!
Wikia is a free-to-use site that makes money from advertising. We have a modified experience for viewers using ad blockers

Wikia is not accessible if you've made further modifications. Remove the custom ad blocker rule(s) and the page will load as expected.