Loose Tooth is the dentist in Stampy's Lovely World . It is far from the bank and behind the pretty kitty spa, it is mainly a mushroom house with oak wood stairs and oak wood at the bottom. It was built for the Tooth Fairy.
Construction
Here are the episodes that it were built.
Building Sources
The building is mainly built out of mushrooms and oak wood.
Featured Videos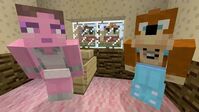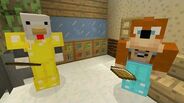 Building
There is a waiting room which is where fishy fishy fish fish lives and a small magazine table with a sofa, the tooth fairy's office was made by lee while Stampy made the funny operating thereat who only has one patient which was Lee, the tooth fairy now operates there but she normally operates on animals like piggy wigs and moo moos.
Ad blocker interference detected!
Wikia is a free-to-use site that makes money from advertising. We have a modified experience for viewers using ad blockers

Wikia is not accessible if you've made further modifications. Remove the custom ad blocker rule(s) and the page will load as expected.