Love Garden

Information

Type

Garden, Shoutout Area

Location
Built by

Stampy Cat
Crimson Azoth (heart)
William Beaver (underground)

Appearance

First Appearance
Other Appearances

Almost seen every episode
he Love Garden is a place where every episode Stampy adds a sign with someone's gamertag or youtuber name because of fan art, a funny comment, or something else that deserves it.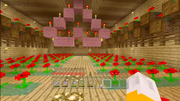 Rules
The Number one rule of getting into the Love Garden is NOT TO ASK! He will not add you if you ask!
If you have something that you feel like you should share with Stampy Cat so you can possibly be in the Love Garden, some of the best options are Twitter, Facebook, or his email.
History
Stampy's love garden started as a joke that his old Minecraft helper Crimson Azoth made a heart in minecraft out of dirt when they were clearing out an area for future building to be made. Eventually, Stampy created his love garden. It started as every person that commented on Stampy's videos, were added to his love garden. Later on, he made restrictions of adding people to the love garden Also, each person in the love garden (the old members) had their own sign, however he moved the old members to make it 4 people (if possible, 5 or 6) in one sign since he was running out of space to put signs, mainly because of popularity.
After changing it so that everyone had to share a sign in the Love Garden, Stampy ran out of space again in his Love Garden simply because it was too full of signs. Therefore, he expanded the Love Garden back, closer to his theatre and added in an extra two rows on both sides of the Love Garden.
After the Love Garden was completely filled up, Stampy, with the help of William Beaver, built a new space underneathe the original which added new room to add people in.
Notable People Added
Inspiration
A few of Minecraft YouTubers has used Stampy's style of thanking people in their own forms and perspective on their main Minecraft Lets Play series.
In Sqaishey's main series, Feather Adventures, she has an area named "Feather Friends pond" where she adds and thank people for their amazing work (artwork, food, etc.) which were inspired by her main series or her other series, much like what Stampy does. StacyPlays' Dalmation Plantation had a very similar purpose too.
Ad blocker interference detected!
Wikia is a free-to-use site that makes money from advertising. We have a modified experience for viewers using ad blockers

Wikia is not accessible if you've made further modifications. Remove the custom ad blocker rule(s) and the page will load as expected.