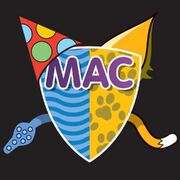 The MagicAnimalClub, also known by its acronym MAC, is a joint channel hosted by Stampylongnose and iBalisticSquid. It is where they upload the MagicAnimalClub Podcast as well as their behind-the-scenes videos. Unlike the main channel, this follows no schedule.
History
This channel was meant as a joint channel of Stampy and Squid since they have outtakes of some videos on Stampylonghead. However, they do not collaborate often due to their busy schedules, making them unable to release videos together.
Stampy mentioned in one Let's Talk video that he had a Facebook group of the same name with a bunch of friends on it. For him, it was the actual start of the MagicAnimalClub.
Since then, vlogs (mostly in Stampy's point of view), outtakes, and even a series named Let's Talk were uploaded.
In 2016, Stampy announced that he moved his current series Let's Talk to his first channel, Stampylongnose, making the first series since 2012 to be released on that channel. He also announced that they startind a video podcast, bringing back the joint channel concept. He also started releasing his new vlogs on Stampylongnose as well.
Videos
Videos include in this channel are mostly clips before or after episodes (two bonus scenes after the videos were uploaded here). It also include real life videos of Joseph Garrett (Stampy), David Spencer (Squid) and Bethany Bates (Sqaishey). Guests in these videos include Lee Carson (Lee Bear) and Stacy Hinojosa (Stacy). Songs made by Stampy and Squid can be also found in this channel, such as The Diamond Song, which was taken from a Quest Series episode. Also, Behind-the-Scenes video of Episode 85, The Show Must Go On can be found on this channel.
Series
Magic Animal Club Podcast
A video podcast where Stampy and Squid discuss whatever interests them. This is released every week on Sunday. There is also a gameplay footage during the videos but commentary is not about the gameplay.
Let's Talk
A series of vlogs where Stampy or Squid discuss things every week. It has been moved to the Stampylongnose channel after 13 March 2016.
Ad blocker interference detected!
Wikia is a free-to-use site that makes money from advertising. We have a modified experience for viewers using ad blockers

Wikia is not accessible if you've made further modifications. Remove the custom ad blocker rule(s) and the page will load as expected.