MissPinkMermaid
Stats:
Appearances
First Appearance:
Unknown
Last Appearance:
Unknown
Username:
MissPinkMermaid
Nicknames:
Mermaid, PinkMermaid
Gallery: MissPinkMermaid Gallery
MissPinkMermaid created her channel on July 1st, 2013. Her real name is Cheyenne but her last name is unknown. She currently lives in the state of California. She currently has over 40,000 subscribers and over 3,000,000 views. She plays on both Xbox and PC. She mostly plays on the Hypixel server.
She used to do BF vs GF videos with her ex- boyfriend, PebblesDaPanda. Her current most popular videos are
Minecraft Xbox- Trivia Map
Minecraft Xbox - Boys VS Girls - Stampys Hungry Dream - Hunger Games
Minecraft Xbox- Temple Run Part 1
MissPinkMermaid is a recurring helper and friend of Stampy. She appears in many Hunger Games and has the same skin as AmyLee33. She appeared in Candy Land Hunger Games as well as many others.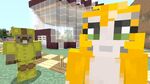 "Let's continue building this article!"