v
Mutant Dog is the episode where Stampy continues building his Creeper Coaster, a creeper themed rollercoaster. He finds something strange at the near end of the video, a Mutant Dog.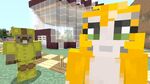 "Let's continue building this article!"
The dog has two heads, but it turns out that it was just two dogs extremely close together! The dogs were Benton and Arrow. Stampy combined their names together to make "Anton" or "Barrow"