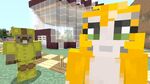 "Let's continue building this article!"
Pig Thief 2 appeared first in the episode Pig Problem, with his partner, Pig Thief 1. They both set up camp in a tent near the Piggy Bank so they could steal all the carrots, however the defense mechanism stopped them from taking anymore. Stampy and Lee showed up and took them both to the Playful Po Po Station, where they were almost broken out by the Pig Gang Leader.
When Stampy did a tour of his Lovely world there were no playmates in the Playful Po Po Station suggesting the pigs escaped, or they were executed by Stampy off video.