'The Sister Challenge' is a series of videos broadcast on the Stampylongnose channel. The series marks Netty's debut on his Lets Play, and from there she became famous on YouTube.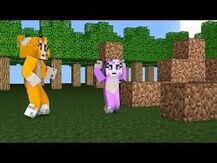 The series follows Stampy's real life sister, Netty as she attempts to play Minecraft for the first time. She plays on Stampy's account on the Xbox 360, and controls the.. well, controller! With Stampy's guidance, she must complete 3 challenges of various difficulty:
1. EASY: Sleep in a bed.
2. MEDIUM: Bake a cake.
3. HARD: Mine a diamond.
It is also mentioned that whilst it is indeed her first time playing Minecraft. It is also virtually her first time playing any sort of video game, so she is completely new on the act. This adds to the difficulty of the challenge.
The series began on 11th May 2014 and ended on 26th June 2014. It was broadcast on a weekly basis. The episodes follow the title of 'Minecraft Xbox - Sister Challenge - Part #'.
Click here for a playlist featuring all 12 episodes of the series.
Ad blocker interference detected!
Wikia is a free-to-use site that makes money from advertising. We have a modified experience for viewers using ad blockers

Wikia is not accessible if you've made further modifications. Remove the custom ad blocker rule(s) and the page will load as expected.