Spanklechank is the friend of Stampy and also a Minecraft Youtuber. He is an epic builder in Minecraft. His world was toured by Stampy in "Minecraft- SPANKELECHANK'S World Tour- Part 1" to "Minecraft- Oil Rig- SPANKLECHANK'S World Tour- Part 12".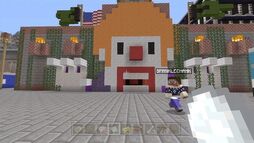 Appearance
He looks like Steve but in a good-looking sweater.
Channel
SPANKLE-VISION
https://www.youtube.com/user/spanklevision
Videos
Minecraft- SPANKLECHANK'S World Tour Full Playlist:
https://www.youtube.com/watch?v=qmudbdu9QXc&list=PLK92on_VnI4wGx-BGMC-3A8ZT-PJIM5L5
Ad blocker interference detected!
Wikia is a free-to-use site that makes money from advertising. We have a modified experience for viewers using ad blockers

Wikia is not accessible if you've made further modifications. Remove the custom ad blocker rule(s) and the page will load as expected.