Squid's Room

Information

Type

Shelter

Location
Inhabitants

iBallisticSquid (formerly)

Built by

iBallisticSquid
Finnball

Appearance

First Appearance
Other Appearances
In Stampy's Lovely World, IBallisticSquid, one of his Minecraft Helpers, started building a little house for himself in Episode 102, because, AmyLee33 and Rosie833 kicked him out of his old room across from Stampy's room. He finished it in Episode 159. However, his house was destroyed by Hit the Target and Veeva Dash in Episode 455 and his entrance was sealed.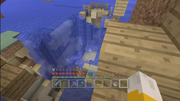 Decoration
As you walk into the big massive Dog House where Stampy's dogs are kept, you should see a door on to your left. If you walk in it, you will see a little blue entrance. As you continue to walk around this room, you will see a kitchen that leads to a little balcony/fishing area outside. Then below the kitchen is a Living Room with a flat screen television, bluish couch, and wardrobes. Also, there are 9 item frames of Ink sacs around the little apartment. And finally, you come into a small sized Bedroom with a blue shower Squid claims he actually sleeps in! And finally, sometimes you should see a slippery fellow hanging out there! It is a pretty good establishment for the slippery kind.
Ad blocker interference detected!
Wikia is a free-to-use site that makes money from advertising. We have a modified experience for viewers using ad blockers

Wikia is not accessible if you've made further modifications. Remove the custom ad blocker rule(s) and the page will load as expected.