Stampy's 1st House

Information

Type

Shelter

Location

Near Rocket Ship

Inhabitants

Stampy Cat (formerly)

Built by

Stampy Cat

Appearance

First Appearance
Other Appearances
In Episode 2, Stampy decided to build a better and a safer shelter to have a rest into while he is exploring the rest of Stampy's Lovely World. Because of this, his first proper house was built.
He only lived at this house few times, as he was building a newer, bigger house - the house that Stampy lives until now.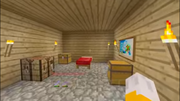 Appearance
Edit
The house is only made out of oak planks and cobblestone. He even made it out of dirt when he first built it because he lacked on oak planks, but he improved it since. The inside of the house has a bed, a painting, a crafting table, two chests, and some torches.
The house remains unchanged since Stampy improved the house early on. All the stuff he left from his very first adventure are still kept. However, the CD-trap, which was built beside the house, was removed to give way for the runway of the Airport.