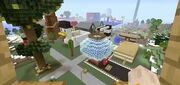 Stampy's Funland is the largest area built in Stampy's Lovely World. It has games, rides and attractions (and dog graves).
Appearance
Edit
Stampy's Funland is where rides,attractions and crazy games are located and where him and his friends plays all day long. Building minigames, rides and attractions takes 2-3 days then they have a tester go to see if the game works. Then on the next video, Stampy and some of his friends will have a tournament to see who will be the champion of that. From the outside is a large sign that says "Stampys Funland" that was built in Episode 51- "A Bad Sign" and a colorful tunnel which houses the former Minecart Track.
It can be accessed from Stampy's House via either the Tree Train, that connects from his house to the Funland easily, or the Teleporter inside the Secret Base, which also has few Teleporters on the Funland. Stampy also wished few times to extend the Tree Train further inside the Funland, but he hasn't started yet. It is also accessible by Pigs and Walking.
Before Stampy's Funland, it was originally a large frozen lake in which Stampy, with the help of his friends, covered with grass.
The first ever game existed is the Golf Course, where his dog Gregory Jr. lives. Many days later he built the sign of the funland and since he added the games, rides and attractions existed today. It is also hinted that after Stampy finishes the funland which may be in 5 years or so he will build walls around it protecting the funland. He has also talked about installing a monorail system, similar to the one in Disneyland and Walt Disney World
Rides, Games and Attractions
Edit
Here is a list of notable rides, games and attractions existed today.
Road Hog (Team)
Cart Count
Stampy's Top 10 Mini-Games
Edit
Stampy's Top 10 Broken Mini-games
Edit
Brief Mention
Edit
Stampy's Top 10 Biggest Mini-games
Edit
Other things and places
Edit
The big Funland sign is located on the hill just past Downtown.
There is also a colourful tunnel which was part of the former track before it was removed. It still stands today.
The Funland House is located in a hill near the Golf Course where Stampy and his friends can sleep without going back to his house.

Additionally, Agatha the Creeper's grave is just in-front of the entrance.

There are also dog graves around the Funland, including ones for Arrow, Cedric, Tikka, Oreo and Aqua.
The first Lovely Jubbley Love Love Petal flower was also planted there beside Road Hog. It is still there until now.
There is also a community board listing all the upcoming builds, but is currently unused.
Squid's house was also located inside, but it was removed.
Longbow currently has 2 houses located under and inside the Funland, one underneath The Ding Dong Game and another one unknown.
A birch house was built behind the Mole Hole game where AmyLee33 rested there when she slept due to exhaustion.
There are also random stuff built by Fizzy Elephant:

A mooshroom riding on a minecart in circles
A cookie dispenser
A treehouse which was used as a "viewing area" for Racestone

There are few Teleporters located in few areas of the Funland.
Ad blocker interference detected!
Wikia is a free-to-use site that makes money from advertising. We have a modified experience for viewers using ad blockers

Wikia is not accessible if you've made further modifications. Remove the custom ad blocker rule(s) and the page will load as expected.