---
Welcome to Stampy's Lovely Wiki!
An online database of all-things about Stampy!
---

Featured Quote:
"I've sort of chiseled down the side of this cliff... GREGORY! Did you see that?, I didn't fall down that cliff. I was pushed, by Gregory."
— Stampy when Gregory pushes him into the water when Stampy was building his house.
1,050 articles since this Wiki started on August 2013.
Wiki Trailer
Watch our wiki trailer! This is the official Stampy Wikia Trailer. Featuring brand new layout, events, and more! Officially made by me. Hope you enjoy!
Explore the Wiki
Who is Stampy?
Mr. Stampy Cat (Or Stampylonghead, Stampylongnose, or just plain Stampy), is a YouTube Commentator and Gamer. He is most famous for his Minecraft series, Stampy's Lets Play, on his Stampylonghead Channel. He has also played many other famous games like Slender-Man, Call of Duty, Terraria, Mario Kart, Sims 4, and much, much more... Before he got super famous, he has his first Channel, Stampylongnose, on which he uploaded funny videos of him and his friends as well as stop motion animation, music parody videos, game reviews, and CODCasting. While doing this, he went to University in Yorkshire, England and eventually got a Degree in Film and Animation. Now, he has grown to be the fourth most watched YouTuber in the world and has a whopping 6 million Subscribers on both his channels.
Rules
Note: This wiki is meant to include articles for all things Stampy. Stampy bashers and haters won't be tolerated, but once they edit the wiki with a negative feedback/page, they would be blocked.

One rule to remember is Stampy is not here in this wiki. All your questions to him must be put on Facebook and Twitter. Wanna know more the do's and dont's rules here in Stampy's Lovely Wiki? Wanna know how to be or not to be blocked? GO HERE!
Featured Image of the Month
Here's the featured photo for the month of November!
Featured User of the Month: KalinParsonsGaming
Our featured user for November is KalinParsonsGaming. Hello, My name is Kalin.tastix, I am the Founder of the Stampylongnose Wiki. I founded it in 2013 when i was bored on the computer just thinking it would be fun to make a Wiki, than, people wanted to become Admins, and join and Edit the Wiki. Now this Wiki is the largest Database for Stampylongnose and one of the largest Gamer Wikis on the Interwebs! For a full list of Featured Users, see this page.
Subscribe to Stampy!
'
Featured Article
Stampy Lovely World is a large world in Minecraft. It contains many shops, restaurants and games so visitors can have a happy visit in his world. (Read More)




Fact of the Month
Did you Know?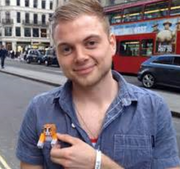 ... Squid's real name is David Spencer.
''' For a full list of Featured Articles, see this page.
Wikia Affiliates
The Stampylongnose Wiki is a member of The 5 Wiki Affiliation Alliance.



To know more about these wikis, see this page.
Staff (as of November 5th, 2015)

4J Studios (Founder)

Main Helpers (Bureaucrats)

Minecraft Helpers (Administrators)

Swear Chest-ers (Chat Moderators)

The Commissioners (Moderators)

Funland Directors (Rollbacks)

Retired Minecraft Helpers
1st Annual Stampy Fan Awards VOTE!
Who is your Favorite Dog?
Who is your Favorite Helper?
Magic Animal Club News
October 2015: "Important Events"
Don't forget to add or improve our pages for the improvement of the Stampy Wiki.
(Download our app off of Google Play!)
A new puzzle set based on Magic Animal Club is NOW AVAILABLE on Maker Shop!
Sorry folks, Stampy has lost in the 33rd Golden Joystick Awards for Gaming Personality of the Year. Anyway, congrats to PewDiePie!
Sorry folks, the tickets for the BOOK SIGNING activity on October 29th and 31st in London and Kingston respectively, are already SOLD OUT. But a new book signing activity wil be held on November 30th at SCOTLAND! GO GET YOUR TICKETS NOW!
Community Blog Posts
Create blog post
Blogs
Hello I Am A Boy Form Great Britan My Name Is Farris Asghar Check out my youtube Channel YOUTUBERCA…

Read more >

The StampyLongHead Show is an animated comedy television series based of Stampy's Minecraft videos.…

Read more >

Hey guys! I just wanted to update you with my position on the wikia. I have been promoted to be an …

Read more >
See more >
Staff Information
ATTENTION! We need 1 Rollback, and 2 Moderators. (As of November 6th, 2015) To apply, you need requirements to qualify and these can be found HERE.
(Info. from our Staff. Click on our names to go to our Profile Pages)
KalinParsonsGaming - Founder - America - Hello! I am Kalin Parsons. I am the Founder of the Stampylongnose Wiki. I started this Wiki in August of 2013 and since it has grown from the smallest Internet Database about Stampy to the largest. Read the Rules & Requirements Page before making a page