A Friendly Reminder
Hello all. Before you start, please keep in mind that Stampy Cat does not view this wiki. I know that parents are keen to show off their kids' creations to Stampy Cat. This is not the place to do it. Better places to communicate to Stampy are his Twitter, Facebook, or Instagram. Again, don't try to contact Stampy through this wiki.

If you've got any questions, don't hesitate to contact me.
From your chat moderator,
CaptainChimpy
Who is Stampy?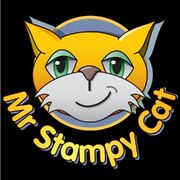 Joseph Garrett, also known on the internet as Stampylongnose or simply Stampy Cat, is a Gamer and online personality who makes videos appropriate for all ages. Because of his family-friendly channel, he has gained over 8 million subscribers, been featured on YouTube Kids, and was once featured as the 3rd most popular Channels. He also created two books, and has been involved with interviews, guest appearances and voice acting in video games.
Rules
Note: This wiki is meant to include articles for all things Stampy. Stampy bashers and haters won't be tolerated, but once they edit the wiki with a negative feedback/page, they would be blocked.

One rule to remember is Stampy is not here in this wiki. All your questions to him must be put on Facebook and Twitter.

Wanna know more the do's and dont's rules here in Stampy's Lovely Wiki? Wanna know how to be or not to be blocked? GO HERE!
Staff
Staff information and more info on site administration here.

4J Studios (Founder)

Main Helpers (Bureaucrats)

Minecraft Helpers (Administrators)

Swear Chest-ers (Chat Moderators)

Funland Directors (Rollbacks)
Pawtastic News!
September 2017: Important Events
Don't forget to add or improve our pages for the improvement of the Stampylongnose Wiki. We are happy on your contributions!
(Download our app off of Google Play!)
Message Board
WIKI MESSAGE BOARD
---
---
---
Staff Application: We are in need of two moderators and an additional rollback. If you wish to apply, check this page.
Social
Create blog post
Blogs
Hello everyone. Someone's making a comeback!

One of the chatmods, CaptainChimpy, is returning to Sta…

Read more >

Hello everyone. Just a quick blog post since i'm in the middle of a school weekday. The Wiki is (al…

Read more >

So I think my account was hacked after my user was posting on the home page about something called …

Read more >
See more >
For our older Twitter handle, check this link. For our Facebook handle (currently inactive), check this link.
Ad blocker interference detected!
Wikia is a free-to-use site that makes money from advertising. We have a modified experience for viewers using ad blockers

Wikia is not accessible if you've made further modifications. Remove the custom ad blocker rule(s) and the page will load as expected.