---
Welcome to Stampy's Lovely Wiki!

The Largest Online Database for the YouTube Gamer Joseph Garrett a.k.a. Stampy!

Featured Quote:

"Please give me a chicken, please give me a chicken, please give me a chicken. How unlucky can we be?"
— Stampy, Tick Tock Episode

955 articles since this Wiki started on August 2013.
Explore the Wiki
Who is Stampy?
Mr. Stampy Cat (Or Stampylonghead, Stampylongnose, or just plain Stampy), is a YouTube Commentator and Gamer. He is most famous for his Minecraft series, Stampy's Lets Play, on his Stampylonghead Channel. He has also played many other famous games like Slender-man, Call of Duty, Terraria, Mario Kart, Sims 4, and much, much more... Before he got super famous, he has his first Channel, Stampylongnose, on which he uploaded funny videos of him and his friends as well as stop motion animation, music parody videos, game reviews, and CODCasting. While doing this he went to University in Yorkshire, England and eventually got a Degree in Film and Animation. Now he has grown to be the fourth most watched YouTuber in the world and has a whopping 5 million Subscribers on both his channels.
Featured Article
Shoe 4 U is the 314th episode in Stampy's Lovely World. Stampy and Lee make a working treadmill and also encountered their first two customers in this episode. (Read More)

For a full list of Featured Articles, see this page.
Featured Image of the Month
Here's the featured photo for the month of August!
Featured User of the Month: SuperlyAttachedGlitch77
Our featured user for August is SuperlyAttachedGlitch77! She was the top one most voted user. Congrats for being the most voted user! Bio: Hi I'm TheGlitch555, just call me Glitch instead. I'm a fan and I'm looking forward to improve this Wiki better. I am a bureaucrat. You can send me reports or any problem because I'm now on daily. I'm also a Youtuber. My channel is TheGlitch555 and you can subscribe to me. Remember, I watch every move you make. My experience here in this Wiki was great. It was kind of a good start and I was also a great editor so I applied being admin. When I got my bureaucrat ship, I got happy and edited a lot of pages. I also have the feeling that I'm appreciated by everyone. I stayed in this wikia forever because I love this wikia. I also got the awards, Most Active Admin and more since I forgot because it was a long time.
To see users to be featured next month, click HERE! Votings are currently ongoing for September. For a full list of Featured Users, see this page.
Subscribe to Stampy!
Rules
Note: This wiki is meant to include articles for all things Stampy. Stampy bashers and haters won't be tolerated, but once they edit the wiki with a negative feedback/page, they would be blocked.

Wanna know more the do's and dont's rules here in Stampy's Lovely Wiki? Wanna know how to be or not to be blocked? GO HERE!
Staff (as of July 4th, 2015)

4J Studios (Founder)

Main Helpers (Bureaucrats)

Minecraft Helpers (Administrators)

Swear Chest-ers (Chat Moderators)

Funland Directors (Rollbacks)

Retired Minecraft Helpers
Fact of the Month
Did you Know?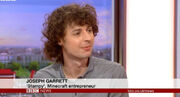 ... His channel was terminated mistakenly by Youtubr on December 2, 2013 for no reason but was later restored by Google?
Latest Videos
Magic Animal Club News
August 2015: "Important Events"
Don't forget to add or improve our pages for the improvement of the Stampy Wiki.
(Donate our app off to Google Play!)
Stampy is going to visit America and Disney Locations. Stay tuned on the Magic Animal Club for Vlogs!
Happy 1st Anniversary in the wiki, RatchetInTheDino! (July 18)
To all Birthday Celebrants for the month of August, Happy Birthday to you all!
Community Blog Posts
Create blog post
Blogs
Hello everyone! Ratchet here, giving you some announcements.

Yes! Our community will celebrate our 2…

Read more >

Actually this is my only reply after months. :P

Well today, this is my 1st year anniversary of editi…

Read more >
See more >
Staff Information
ATTENTION! We need 1 Admin, 1 Rollback, 2 Moderators, and 1 Chat Moderator. To apply, you need requirements to qualify and these can be found HERE.
(Info. from our Staff. Click on our names to go to our Profile Pages)
KalinParsonsGaming - Founder - Hello! I am Kalin Parsons. I am the Founder of the Stampylongnose Wiki. I started this Wiki in August of 2013 and since it has grown from the smallest Internet Database about Stampy to the largest. Read the Rules & Requirements Page before making a page
</center>