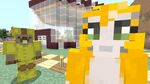 "Let's continue building this article!"
Submarine is the 164th episode inside of Stampy's Lovely World.
Synopsis
Edit
In this episode, Stampy, and his helpers will build the first submarine.
Stampy starts his episode like he normally does. In this video he is joined by Lee and LongShotBTG. They head outside and begin to build a submarine next to the SS Stumpy so Stampy can explore the deep blue sea. They continue to build the submarine until the end of the video. They then end the video like the usually do.
Ad blocker interference detected!
Wikia is a free-to-use site that makes money from advertising. We have a modified experience for viewers using ad blockers

Wikia is not accessible if you've made further modifications. Remove the custom ad blocker rule(s) and the page will load as expected.