The Lost Sword is an adventure map played by Stampy with his friend IBallisticSquid that they very recently finished. It is the second longest adventure map they played with the first as RE Solitude.
Episodes
Stampy Cats
The Village
Desert
The Castle
A Strange Place
Navigating Nugget
Snow Cave
Oke
Sewer Struggles
Horsing Around
Problem Solving
Pirate Cove
Skull Mountain
Puzzle Temple
Quiz of Faith
Whooooahhhh
Herobrine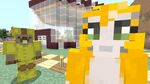 "Let's continue building this article!"
Ad blocker interference detected!
Wikia is a free-to-use site that makes money from advertising. We have a modified experience for viewers using ad blockers

Wikia is not accessible if you've made further modifications. Remove the custom ad blocker rule(s) and the page will load as expected.