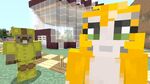 "Let's continue building this article!"
The Transport Station was a transportation room built in
I Ride My Cart Back and Forth
.
It was turned into a bathroom in 147. At one time He used it to distract lee while he snuck off to eat a cake on video 101. the minecart system got you from the corridoors to a room above the crafting room. (The room above is now fred's room.)
Ad blocker interference detected!
Wikia is a free-to-use site that makes money from advertising. We have a modified experience for viewers using ad blockers

Wikia is not accessible if you've made further modifications. Remove the custom ad blocker rule(s) and the page will load as expected.