Hello everyone. I'm here bringing good news for you.
This good news happened on the 18 of February 2016, a couple of days ago. Stampy's friend AshDubh visited his own page on our wiki as part of his video "DOES ASHDUBH SWEAR? | Google Myself" on AshDubh2 (his side-channel).
Here's the picture.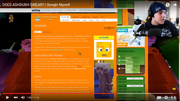 It's so great and proud that Youtubers visit the wiki, including Stampy himself. This is a great addition to our list of Youtubers who visited the wiki once.
Have a great day :D - RatchetInTheDino
Ad blocker interference detected!
Wikia is a free-to-use site that makes money from advertising. We have a modified experience for viewers using ad blockers

Wikia is not accessible if you've made further modifications. Remove the custom ad blocker rule(s) and the page will load as expected.