Barnaby says, "This plot needs more CONTENT, so add every detail in the episode now!"

Please expand the article as well as you can!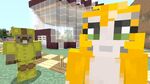 "Let's continue building this article!"
William Beaver
Stats:
Appearances
First Appearance:
Friends and Foes
Last Appearance:
N/A
Username:
Will Beaver
Nicknames:
Billy Beaver, Billy
Gallery: "Unknown"
William "Will" Beaver, also known as Billy Beaver, William, or simply Billy is a current helper in Stampy's Lovely World. He is known for his battle-hard character, having defended Stampylongnose and his fellow helpers from Googlies. He first appeared in the episode Friends and Foes when he helped Stampy defeat the Wither Boss. He has lived in Stampy's First Home even before he and Stampy met, which is a small man-made cave built by Stampy on his first episode.
William Beaver joined Stampy's Lovely World long before he first appeared in a video, and he lives inside a cave which was Stampy's first home. He's known for changing outfits for every single episode and loving to eat carrots. Through Twitter, William was always suspicious of Veeva Dash, though few people knew who he was before he first appeared in an episode. He first formally appeared in the episode Friends and Foes, when Veeva Dash and Hit the Target spawned in a Wither Boss. He showed up in full diamond armor and helped Stampy defeat it. Since then, he has appeared in almost every episode, playing games and defending against googlies. He has appeared in almost fifty episodes, making him one of the influencial helpers in the series.
In episodes 460-461 Stampy helped William build his new tool shop, Tool Order. He is the first of the current helpers to have their own shop.
He skin is a brown beaver with black facial feautres. His skin is mostly unknown due to his habit of wearing armor. On a regular morning, his outfit is full leather armor, color-dyed to his choice. When he is defending, he wears diamond armor and brings out his diamond sword. He has rarely seen without any armor on.
For a while before he appeared in a video, William tweeted out on his Twitter account (@William_Beaver) warning people that Veeva Dash was evil. 

Whenever he did this, Veeva responded to him saying something mean or negative.
He lives in the cave that Stampy used as his first house when he started playing Minecraft.
He loves to eat carrots and usually is seen wearing dyed leather armour.
Ad blocker interference detected!
Wikia is a free-to-use site that makes money from advertising. We have a modified experience for viewers using ad blockers

Wikia is not accessible if you've made further modifications. Remove the custom ad blocker rule(s) and the page will load as expected.